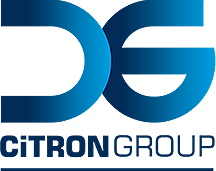 We make your brand more
inspiring
Since 2004 we have been operating in the corporate gifts market. Over the years, from a local company, we have grown to become a supplier for advertising agencies in more than 30 countries. The CiTRON GROUP headquarters, sales department and production department, are located in Warsaw, Poland. We sell from our sales offices in Warsaw, Poland, and our subsidiary in Madrid, Spain.

We specialize in manufacturing, labeling and selling pen-drives, power banks and promotional gifts made out of PVC. We carry ample inventory, and enjoy a quick lead time. We have dozens of pen-drives and power bank models in stock ready to be labeled with laser engraving, pad printing, UV printing and epoxy stickers. We hold our customers' loyalty in highest regard, and pride ourselves on our superior customer service. We understand that pen-drives and power banks are not only a gifts, but also everyday use items, we never realize orders with fake flash memories, incomplete memory capacity or incomplete battery.
Since 2016 we have had a unique in Europe production line of pendrive PVC housings. Within the PVC FACTORY, thanks to available technology, we also complete orders for many other PVC products, such as: mugs, key rings, GSM pendants, bagagge pendants and advertising magnets.

Every year we participate in numerous Polish and foreign trade fairs, presenting our capacities at the biggest & most well attended trade events. The trust of our clients and partners is our top priority, therefore we work only with advertising agencies and professional agents of promotional items sale.

The wide recognition of our customers is evidenced by our numerous awards and prizes in competitions; among others Advertising Crowns and Gifts of the Year.
The CiTRON Group includes three entities: CiTRON European USB Warehouse, PVC Factory, C-CARE and GiftsFactor.
Our mission is the urgent delivery of high quality, personalized promotional gifts, that support the marketing strategies of thousands of European companies. We cooperate only with advertising agencies and agents of promotional items, focused on achieving the highest possible product quality, in order to maximize the success of our clients.
Number of countries that we export to
Number of offices in Europe
Number of customers serviced annually
Sales Department - Branch in Poland
Sales Department - Branch in Poland

Katarzyna Walesiak
Account Manager
tel. +48 22 839 49 45 (wew. 14),
22 614 36 41 (wew. 14)
mob. +48 797 340 507
k.walesiak@citron.pl

Marcin Duda
Account Manager
tel. +48 22 839 49 45 (wew. 17),
22 614 36 41 (wew. 17)
mob. +48 789 258 001
m.duda@citron.pl
Sales Department - Branch in Spain
Sales Department - Branch in Spain
Accounting Department and Secretariat
Accounting Department and Secretariat
CITRON GROUP
ul. Jagiellońska 88 bud. 51L
00-992 Warszawa
tel. +48 22 839 49 45,
22 614 36 41
mob: +48 500 259 593, 797 340 507
sales@citron.pl